Best Bean to Cup Coffee Machines
For those who love convenience, Bean to Cup machines are definitely for you. The lowest maintenance machines on the market, they require the least effort to operate and realistically, all you need to do as a user is make sure they are full of the necessary products, wait for it to heat up and press the button – it's as simple as that.
Whilst operating a Bean to Cup machine is simple, choosing the right machine for you may not be as easy as there are still hundreds on the market and it can be difficult to know which to choose. Do you want a machine that you can set to brew at a certain time? Would you like a machine you can fully dismantle to clean? Or, do you just want a coffee machine that makes coffee?
Thankfully, you needn't ask any of these questions because our dedicated team of researchers have tried and tested the most popular Bean to Cup machines on your behalf to give you the information you need when choosing your ideal machine:
Juro Impressa E6 Bean to Cup
£694.00
Impressive by name, impressive by nature; the Jura E6 Bean to Cup is a coffee lovers dream- loaded with SMART features and able to dispense delightful beverages in seconds.
Sleek and attractive, the machine boasts an easy to use colour display with pre-set programmes to choose from (espresso, cappuccino, milk foam and hot water) and a built in grinder. The E6 also allows you to manually select the length of drink and the strength and you can also create and save your preferences for next time within the 'Expert' mode setting.
When we tried it out espressos were quick to make and produced a rich well-balanced taste. A handy feature for those wanting a quick-cleaning solution, the machine also automatically rinses itself whenever you switch it on, taking about 25 seconds before it is ready to go.
At under £700 it's one of the best value and most stylish bean-to-cup machines on the market. Beautifully engineered, full marks from us: 10/10.
Delonghi Magnifica Bean to Cup espresso machine ESAM4200
£329.99
As you may have gather from our other reviews, DeLonghi have a slight tendency to overprice themselves based on their reputation. This is absolutely fine and we won't judge them for increasing their prices as their kudos rises but we will judge when their machines simply fail to live up to their lofty price tags.
This Magnifca doesn't disappoint, however ,and at under £350 it's a bit of a bargain.
The Magnifica does an excellent job of grinding beans and producing delicious Espresso and Americano; plus its steam arm is a triumph of design, it's easy to clean and very robust. The water tank is 1.8 litres and allows for steam at any time thanks to an intelligent heat reserve system that constantly maintains pressure.
Conveniently, the machine also cleans itself every time it is powered up (or down) 
Owing to its design, price and the quality of the coffee the machine produces: 8/10.
---
Philips Grind and Brew coffee machine HD7765/00
£189.99
An innovative take on the Bean to Cup system sees Philips merge the Grind and Brew function with some features from that of a standard Filter Coffee system. This is a system that really works despite its simplicity, you take the fresh brewed experience of a Bean to Cup and combine it with the multiple cup production style of the Filter system – utter genius.
And the innovation doesn't stop there with this Philips machine. They have introduced a novel concept for those who like different coffee beans – their bean container has two compartments which can be selected with a quick turn of a dial. Not only that, another dial allows you to select the overall strength of the brewed coffee; in terms of being user friendly, Philips have it down to a T.
The LCD screen allows you to program the machine to brew at any time of day as a preset; meaning you can wake up, or even arrive home to freshly brewed coffee at the touch of a button. They really have thought of everything that an end user may desire from a Bean to Cup coffee machine with this combination system. We were very impressed with the brewed coffee – there's even a simple system to select how many cups you'd like brewing on the side of the machine, a great way to end any nagging.
Philips also offer a superb warranty with this product showing you don't need to spend as much as you may have initially thought for a Bean to Cup machine – this cannot be anything other than full marks at: 10/10.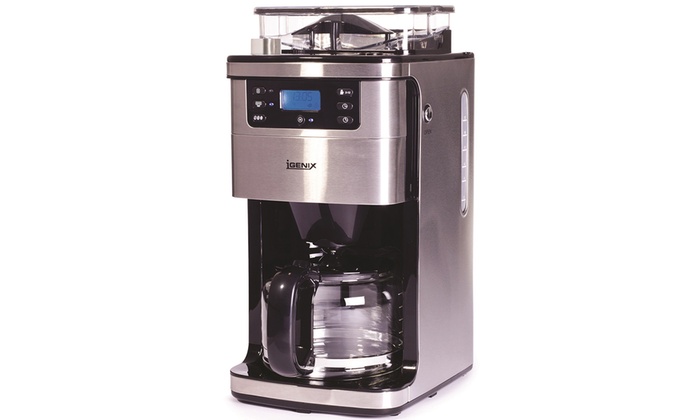 Igenix IG8225 12 Cup bean to coffee maker
£73.00 (Best Price, RRP £149.99)
Another combination machine sees Igenix combine the Bean to Cup function with that of a Filter Coffee machine – only this time at a much lower price. We found £73.00 as an available price with minimal effort and it'll no doubt be the same for you should you believe the Igenix is right for you; and to be honest, we really can't see why it wouldn't be.
We're big fans of its purposeful design and its built in timer which allows you to preset a time for your first brew of the day. It also features a permanent, washable filter that'll save you on future costs in paper replacements.
Igenix are well known for producing Filter Coffee machines but this foray into the Bean to Cup market is a very successful one – the grinder itself is efficient and pretty quiet considering its purpose. It also has a large 1.5 litre water tank capable of brewing up to 12 cups in one go – utterly ideal for the office!
Despite the buttons being relatively small and a lack of labelling on the machine itself, the controls are very intuitive – almost as though Igenix worked out the best place for each function to go and placed them there deliberately.
We really are impressed with this machine and even if purchased at full retail price it still is an absolute bargain. One criticism would be that we might like to see a milk foaming arm as some people do prefer cappuccinos and lattes meaning it is a little restrictive in that department. Even so a respectable: 7.5/10.
---
Delonghi Bean to Cup coffee machine ESAM2800
£269.99
It's another pricy entry from DeLonghi in the form of traditionally styled Bean to Cup machine that looks remarkably unlike any other Bean to Cup machine we've reviewed. The beans have been stashed away inside the machine so you'll have no idea how many are in there nor their quality without opening the machine up and having a good look around – not an ideal start to any review.
Though, the DeLonghi does redeem itself in places: the grinder is very quiet and the removable water tank is a vast 1.8 litres but that isn't the biggest positive of the machine as a whole. In fact, the most impressive feature comes in the form of the milk foamer which can be left to its own devices to froth your milk – be careful to keep an eye on it however, as it may spill over and leave you with a hot mess.
The machine is self-cleaning when it is turned on and off meaning the maintenance of the machine is very easy and, if you do happen to run out of fresh beans, you can always use pre-ground coffee as an alternative. This machine really outdoes the other, more expensive DeLonghi we have reviewed and to some extent, also the others on this list, in its own right.
It's easy to use and is surprisingly compact for a Bean to Cup; it really has impressed us but that price is still a little high: 7/10.
---
Gaggia Brera Bean to Cup coffee machine
£394.99
Gaggia are a favourite brand of ours and for good reason: they manufacture some of the best machines we've ever used. The Brera Bean to Cup is no exception to this rule and although the surrounding the price tag may seem a little hefty, we assure you that it's worth every penny…or drop!
The Brera is a very energy efficient machine – this is one of its key selling points, and goes into its standby mode after an hour without use: in this mode it uses less than one watt of electricity per hour and can be brought back to full operational temperature in just seconds. Incredible efficiency combined with a rapid revive function is a huge winner for us.
The grinder is ceramic as opposed to the more common metal and plastic variants; ceramic grinders are far superior in the same way ceramic brakes are on a car – they don't dull with use and are phenomenally easy to clean. The ceramic grinder also boasts much finer grinding settings that allow you to select the perfect coarseness for your brew.
The instructions are very clear and the controls are limited to just four buttons; you genuinely need no more. One activates the machine, another operates the coffee dispense, one sets volume and the final sets the coarseness of the grind, it's as simple as that. The steam arm is operated with a valve on the arm itself allowing you full control of the pressure during the steaming process.
The used coffee is deposited into a discreet bin to the side of the dispenser – be sure to empty this regularly or you encounter an unpleasant surprise after some time.
Gaggia have certainly impressed us enough to justify the hefty price tag – well, almost. £394.99 is just little too steep for a machine with no timer setting and a slightly smaller 1.2 litre tank. There are better options other in terms of value for the money, this is a shame as Gaggia are one of our favourite brands, a final score of: 6.5/10, purely based on the hefty price.
---
Bosch TES750129RW Vero Café bean to cup automatic coffee machine
£349.99 (best price, rrp £549.99)
This Bosch model may seem expensive and even more so based on its RRP, but it is worth every penny when you look at everything this machine can do. Just looking at the Vero Café suggests it is a very professional machine with an array buttons and functions to comprehend before you even brew your first cup.
The first innovative function that comes to hand is the dispensing nozzle itself, this can be raised or lowered depending on the size of cup to be filled; followed closely by the incredibly long milk foaming arm. That arm allows you to foam a much greater amount of milk at any one time than with any other machine we have reviewed, or even foam milk directly in your cup or glass and add the coffee afterwards.
The Vero Café also features a ceramic grinder and a removable 1.7 water tank for maximum efficiency – less time cleaning the grinder and filling the tank means more brewing time. And speaking of cleaning, the machine cleans its pipework after every brew to prevent any unpleasant build up whilst ensuring a fresh coffee experience each and every time.
Thankfully, with the number of dials and buttons adorning the front of the Vero Café, the user manual is incredibly detailed yet easy to understand; you'll be brewing your perfect coffee with ease before you know it.
We are thoroughly impressed with the Vero Café but would suggest at such a high price it may be better suited to small commercial environments and businesses rather than domestic usage at home. Even the best price we have found is a huge amount to spend on a domestic machine, especially with so many others on the market a much lower price. We give this a respectable: 8/10 for its possible applications but a solemn 5/10 for domestic situations thanks to that whopper of a price tag.
---
Delonghi fully automatic Bean to Cup coffee machine ECAM 22.110 SB
£339.99
From our DeLonghi reviews, we've saved the best till last. Admittedly, the price tag is still quite steep but that shouldn't deter you, this is a refinement of the other two designs put together to create something utterly brilliant.
The first thing you will notice when using this machine is the distinct lack of noise, this is down to DeLonghi's silent grinding technology which has an impressive 13 coarseness settings each controlled by the central dial. A large 1.8 litre removable water tank makes up the bulk of this machine's build thanks to the incredibly compact, but effective, ThermoBlock heating system that takes no time at all to bring water to the optimum brewing temperature.
This machine also has a moveable dispense nozzle to suit all cup sizes but this isn't where the customisation ends. You can set your preferred temperature too; so if you want to drink your cup immediately, you can tone down the delivery temperature at the touch of a button – genius.
We were so impressed with this DeLonghi machine that we decided the price tag is there, or thereabouts, justified. That said, we would've liked to see a programmable timer but it's a small compromise in the grand scheme of things for a machine of this quality backed up by DeLonghi's guarantee. A sure fire hit at: 9/10.
---
Severin Fully automatic bean to cup coffee machine Piccola premium
£499.99
Ouch! A hefty price tag for a brand that only experts seem to be truly familiar with. Can a brand you aren't familiar with win you over? If you remember the days when you'd never heard of DeLonghi or Gaggia then you'll give the Severin a chance. This machine can definitely win you over just as easily despite costing nearly as much as Starbucks every day for a year!
As we explained earlier, Bean to Cup machines are best for those who enjoy convenience and the Severin machine takes it to a whole new level. A top loading bean container also gives you the option of using pre-ground should you prefer it – or if you're a fan of hot chocolate – and an adjustable dispenser allows you to vary your cup size dependent on preference.
Up to now, it may sound quite average but just wait: the Severin is sold with an automated milk heating/foaming device that allows you to create lattes, cappuccinos etc using freshly ground coffee at the touch of a button – possibly the only Bean to Cup machine on the market that can manage this feat.
The Severin also comes with a built in water filter to ensure nothing compromises your coffee experience – not even hard or soft water. This machine really is a revelation in innovation and we are wholly looking forward to reviewing more Severin products in the future.
You can grab one of these impressive machines for little over £300.00 with some research and a bit of luck so make sure to do your homework if you do fancy trying the Severin out for yourself – we strongly recommend you do…a solid: 9/10.
---
Andrew James Premium Programmable Chrome
£79.99
There's no way we could conduct a review of Bean to Cup machines without mentioning our favourite brand: Andrew James. The incredibly affordable machines manufactured by this company go a long way to show the bigger names what can be done for far less cost.
This particular machine is a combination of a Filter Coffee and Bean to Cup machine but that doesn't detract from its superb functionality. We love Andrew James machines for their sheer simplicity and Spartan styling – they give you everything you need and nothing more.
A 1.5 litre removable water tank takes next to no time to heat up and can produce up to 12 cups of freshly ground coffee in double quick time – ideal for the office. What's more than that, this budget model does include a 24 hour timer function that we've been craving on machines costing up to six times this machine – you can set it for any time and there will be coffee ready for you there and then, what better way to keep employees happy than by having a cuppa waiting on their desk for them.
There are a few compromises: there's no steam arm or heated milk function so it's Americano or Café au Lait and that's it. The reusable filter also needs to be cleaned fairly regularly to maintain good performance meaning that the maintenance of this machine requires more effort than others on this list.
These cons are virtually meaningless, however, given the positives which also include a two year warranty and enough money left over to buy an Aeroccino if you really crave a latte or a cappuccino. We love this machine and it's a definite: 9/10.
---
So, which is the best bean to cup coffee machine?
The price of a Bean to Cup coffee machine is entirely down to how much you are willing to spend, there are great options at the very top of the scale as well as several impressive budget models. Our personal recommendation remains the Andrew James model – it does everything a Bean to Cup machine should do, it is cost effective, has an impressive warranty and produces an exceptional cup of coffee.
If you are looking at the pricier models, be keen to research prices thoroughly to get the best deal. Online auction sites and major online retailers often have the best prices on these machines meaning you could save a fortune. We generally advise steering clear of second hand machine as there may be no warranty or a non-transferrable guarantee you can't take advantage of should it go wrong.