Best Capsule Coffee Machines
Capsule machines are perfect for anyone who thinks they don't have the time or inclination to brew their coffee from scratch. The sheer convenience of these machines is staggering – no matter whether they are top, side or rear loading; you simply insert the pod and press a button – that's it – perfectly brewed coffee every time.
There are several major brands on the market including Nespresso, Dolce Gusto, Tassimo and more so it can be a tough ask to look through all the options before deciding on the best model for you – you wouldn't want to invest your money into a certain brand only to learn your favourite blend is only available through another brand.
Our reviews will hopefully answer any questions you may have about Capsule machines but be aware, we rate the machines and not the brands themselves – you'll just have to try them for yourself!
Magimix Nespresso Inissia and Aeroccino
£89.39
This Inissia summer sun version of the ever popular Nespresso brand manufactured by Magimix is rated number one on Amazon, with five star customer reviews across the board.
An aesthetically pleasing model for those who want an added touch of style to their kitchen, it is available in a vibrant orange design. Its sleek modern appearance is eye catching, with a number of reviewers stating that it looked compact and smart on their worktop.
The appearance is not the only good thing about this machine however. It has an improved Thermoblock instant water heating system, which means that you can pop the capsule in to the machine and have a hot cup of coffee in just thirty seconds – perfect for those in a rush in the morning! And there should be no worries if you accidentally leave it on in your rush – as it switches off after either 30 or 9 minutes.
It also has an easy to use automatic volume control. This means that you can decide on the strength of your coffee without messing around with complicated controls. And don't worry if you forget to take the empty capsule out of the machine – the container holds 9-11 used capsules.
This machine is perfect for those who enjoy their coffee in any way. Whether it is in a mug, a cup, or a glass, the folding cup support allows you to use anything you please.
It is obvious to see why this machine is rated number one with customers on Amazon, for the price it is hard to criticise. The speed and practicality of the machine, alongside the modern, bright look that it gives your kitchen makes it a very sound investment – 9/10.
Magimix Nespresso Pixie Clips
£100.39
Magimix is yet again proving a hit on our list, this time the Nespresso Pixie Clips coffee machine which is rated number two on Amazon with buyers.
This stylish model comes in a variety of different colours, as the unique Pixie Clips give you the opportunity to change the side panels of the machine to match your style. With 12 different panels available, it is quick and easy – especially if redecorating calls for a change of colour!
This model is also good for those with less space in their kitchens. The self-styled ultra-compact brewing unit still performs as well as more expensive models, without being an eyesore. The Thermoblock instant water heating system heats up in 25 seconds – faster than most on the market. It also has a removable 0.7 litre water tank which means you can easily change water every day.
A simple one touch button system with espresso and lungo capacities can be easily reprogrammed to the strength of your choice. It also contains a folding drip tray which accommodates those who love a tall coffee or for those who want a small espresso.
This machine prides itself on being affordable and stylish, yet still producing barista style coffee with a 19 bar high pressure pump. Ideal for those with time constraints and the fashion conscious who love a bit of style in their kitchen – 9/10.
Krups Nescafe Dolce Gusto KP 100940
£52.98
The cheapest model on our list, but by no means any less effective, the Krups Nescafe Dolce Gusto is an affordable yet attractive model to have on your worktop.
For those not bothered by extra features available on more expensive models, this one still has a 15 bar titanium pump which means you can still enjoy your favourite Dolce Gusto pods, among other competitive brands with the same fitting.
Many Amazon users comment on the ease of use, alongside the beautiful lattes that you can make with this machine. It also comes with 6 free coffee pods to test your tastes, alongside a 2 year guarantee and a free £10 to spend on products when registering your machine.
Unlike many other models on the market, this is plastic. To many it would be a downside, but to someone looking for value for money and a good product rather than aesthetics, it would be perfect – 7/10.
Magimix Nespresso U, 1260 Watt 19 Bar Matt Grey
£129.95
Probably one of the most attractive machines on the market, the Magimix Nespresso U is slightly more expensive, but has the high end look that many customers are looking for.
This slim machine is available in Matt Grey, and comes with a multi positional water tank and drip tray – meaning that you can position it to your taste, and where best fits in your kitchen.
This easy to use model has one touch controls which can be programmed to three different cup sizes – perfect for a family with different tastes in coffee! It also automatically pierces the capsule and ejects it itself, perfect for those in a hurry.
It has an in built power saving mode, which automatically turns the machine off after the last use. When it only takes 30 seconds to heat the water anyway, you are losing no time at all and saving a great deal of power.
Despite only being rated fourth on Amazon, it is still befitting of a five star reviews from customers who are very pleased with their purchase. Most describe it as fast, tasty and easy to clean. Alongside its stunning appearance, the only reason we are marking it down is the price – there are cheaper models available that do the same thing – 8/10.
Krups Nespresso Essenza XN212540
£306.00
The priciest model on our list is the Krups Nespresso Essenza, which is currently available on Amazon at £306.00. As with all Nespresso machines, they have patented 19 bar pressure which according to them leaves you with the best barista style coffee outside a coffee shop.
It's incredibly stylish exterior is further accentuated by how compact it is. It is a statement to have it on your worktop if money isn't a concern for you. It comes in a sleek black plastic with grey border in a half egg shape. It also isn't that deep, despite the fact it has a capsule container for up to 12 capsules.
Krups maintain that each element of water pressure, temperature and extraction duration has been calculated with great precision which makes for the perfect cup of coffee. A view shared by those reviewing the machine on Amazon. It also has an energy saving mode, as well as giving you the ability to choose from 16 Grand Cru coffees in hermetically sealed Nespresso capsules – 8/10.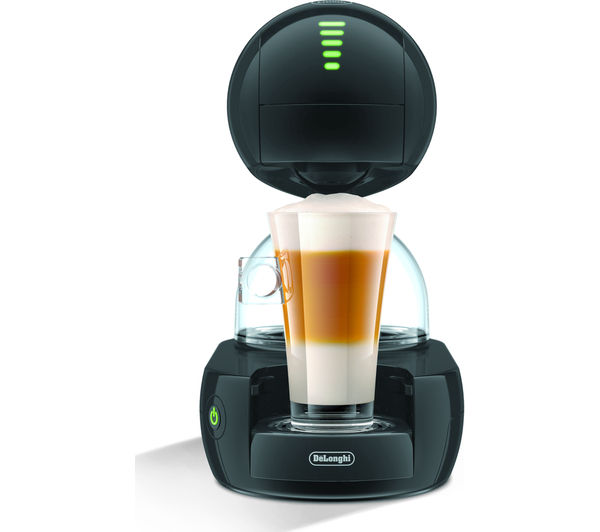 Nescafe Dolce Gusto Stelia by Delonghi EDG635.B
£119.99
The Nescafe Dolce Gusto Stelia is one of our personal favourites. With probably the most original and fun design, it sets it apart from its rivals.
The only Dolce Gusto machine on our list, it is one of the most highly rated by Amazon users. Many comment that they have stopped using coffee shops altogether after buying one of these, and it is fast and easy to use.
This multi-beverage maker can make drinks such as lattes, cappuccinos and Americanos amongst others, including the very popular 'chococinos'. Dolce Gusto probably has the most diverse choice of capsules, and they offer a new and exciting way of enjoying a coffee – and at a reasonable price. Compared to many of the machines on the market, it looks more expensive and original, and is still a sound investment at £119.99.
It contains an intuitive HMI interface, which lets you select your favourite coffee and how you would like it. Brilliant if you have more than one person in your home enjoying different styles of coffees. It also contains a power save option, where like other machines it switches off minutes after operation.
Probably our favourite to look at, and the best value for money – 9/10.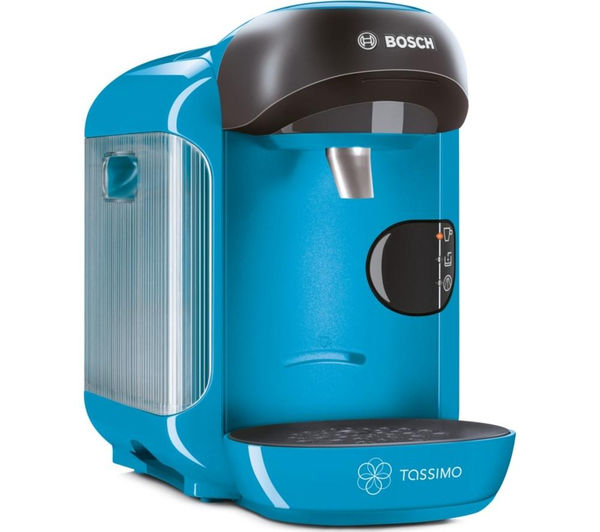 Bosch TAS1255GB Tassimo Vivy II Compact
£64.92
An ultra-compact machine for a bargain price of £64.92, the Bosch Tassimo Vivy II is perfect for someone looking for barista style coffee in their own home without breaking the bank.
Coming in either a fetching shocking blue or an Anthracite colour, this tiny machine does what many of the more expensive models do, for a snip of the price. Despite being cheaper, they haven't cut corners, with an impressive IntellibrewTM system. This has a patented bar code technology, which identifies the drink that you have selected, and then adjusts the amount of water and brewing temperature to suit.
Coming with a removable 0.7 litre water tank, it is incredibly easy to clean. It has an in-built cleaning and descaling programme, and if you want a more thorough clean, the parts are dishwasher safe.
This machine does an astounding amount of things for the price. Not only is it attractive, but it has features that many of the more expensive machines don't have. With this you also have the pleasure of trying the full Tassimo coffee collection, arguably the most popular in most supermarkets. By far our favourite of the cheaper models – 9/10.
Krups KP1105 Oblo Nescafe Dolce Gusto
£90.42
This beautifully designed machine is aesthetically one of our favourites. The shocking pink design would fit beautifully in to any kitchen, and the compact design makes it easier to either store or put in pride of place on your worktop.
The Krups Oblo Dolce Gusto has an extra feature of a magnet in the bobbin, which manufacturers have put there for maximum safety and comfort. Again it has an in built Thermoblock system which allows very speedy warming for all your favourite drinks.
Also with Dolce Gusto, you can choose from drinks both hot and cold. Whether you want an espresso, a cappuccino, an ice tea, a hot chocolate or many more.
This model is a snip at under £100 and looks to be more expensive than it is. When compared to other machines the same price it offers a lot more. Customer reviews are also favourable, with every reviewer giving 5 stars on Amazon. The colour however, is to our taste but may not be to every person.
One of the more striking designs for your kitchen – 8/10.
Krups Nespresso Pixie XN301 Titanium with Aeroccino 3
£162.99
This beautiful machine may be higher on the pricing scale, but it looks like it could belong in a professional coffee shop. It contains everything you would need on a Nespresso machine in your home.
Along with many of the machines, its energy saver kicks in after 9 minutes and auto turns off after that time. It is also faster heating than many of the machines on the market. It has 19 bar pressure and water level detection in its 0.7 litre removable water tank – again making it easier to deep clean.
The machine itself comes with a variety of different capsules in a 'try before you buy' type idea. The Nespresso capsules themselves can be bought either online with the machine, or in most supermarkets.
This machine is one of the most compact on the market. It is just 25 cm high, 30 cm deep and 12 cm wide, so could be placed on a worktop underneath cupboards for those with a smaller kitchen who are wary of space.
The reason it is slightly more expensive is that it also comes with an Aeroccino milk frother. For those who want a cup of coffee similar to that at a coffee shop, you can froth your own milk. It may be more time consuming, but it is a quality added feature, and with this makes the price reasonable for what you are getting.
An original machine with original features – 9/10.
Delonghi Circolo EDG 606.S
£150.36
The Delonghi Circolo is a futuristic looking machine, which again is incredibly compact. Towards the higher part of the pricing scale, it contains advanced features you don't get on some of the cheaper models.
It has a minimalist, curved pod like design with a sleek silver finish. It is small enough to fit on any worktop, whether you live in a flat or have a big kitchen in a house. Like many of the advanced models, it has a self-cleaning mechanism, which means that aside from a deep clean every now and then, it's a no hassle coffee machine that you can use numerous times without worrying about mess.
This machine is compatible with Nescafe Dolce Gusto capsules, which have a huge variety of different branded coffees and hot chocolates that you would find in any good coffee shop. What's even better – you get a pack free.
The website states that this machine can make you a hot coffee how you want it in seconds, and customer reviews on Amazon back that up. Not only do the capsules contain a blend to produce your chosen drink, but they also regulate the pressure flow, for each specific drink.
Having said all that, for £150 it is expensive compared to other comparable machines. It doesn't contain an aeroccino like the Nespresso Pixie, which is only £12 more expensive.
A futuristic machine, but without key features of similarly priced models – 7/10.
Summary
So there you have it, our favourite ten Capsule Coffee Machines. There's a great deal of creative freedom for the designers where Capsule machines are concerned – some of them look as though they would be right at home in the Tate Modern.
They are also relatively inexpensive but you need to avoid being extorted by the companies who supply the pods and capsules – they can be incredibly expensive when purchased in small amounts; try and get the best deal by buying in large quantities or through wholesale routes.