Buy Cheap Coffee Machines
Not everyone wants to spend thousands of pounds of a coffee machine, especially if their needs are met by something much cheaper. You may be lulled into believing a more expensive machine would be superior but this is not the case. You're likely be paying for a brand name and/or features you simply don't need.
To avoid the need for hundreds of wasted hours researching the market, we've compiled a full guide to the 10 best coffee machines under £100, from bean-to-cup to the very best filter coffee machines. There's something for everyone here so you might just bag yourself a bargain: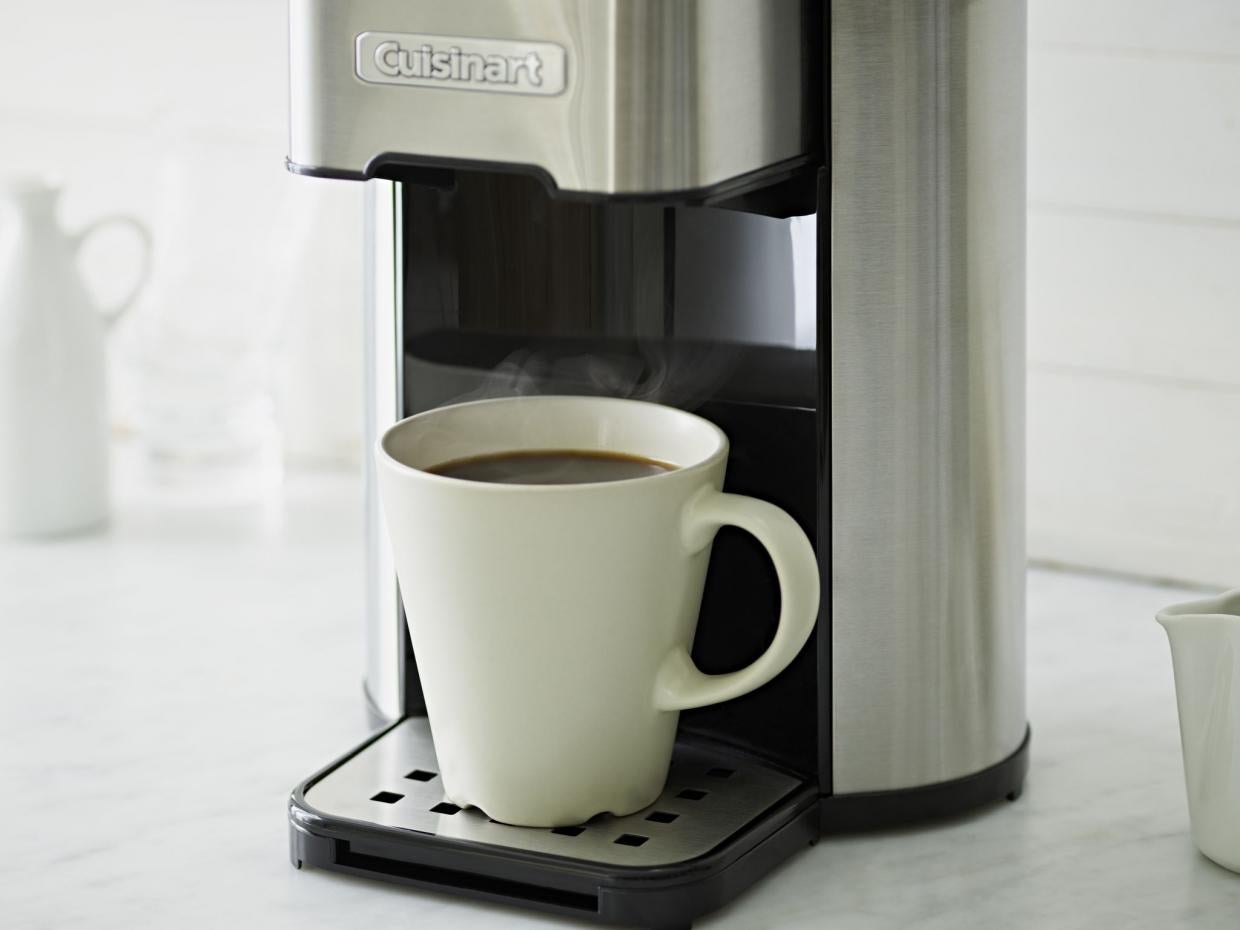 Cuisinart One Cup Grind and Brew
£99.99
A brilliant machine for those who only need one cup of coffee brewing at any one time; the Cuisinart not only brews coffee it also grinds beans with its built-in grinder. It's even good for those who prefer to buy pre-ground coffee and is fully compatible with whole or ground beans.
A fully automatic system that is easy to clean sounds like it could be too good to be true but the Cuisinart fits this description perfectly. All removable parts are dishwasher safe, including the grinding chamber and filter basket. The drip tray is even adjustable to fit your chosen cup along with simple settings that can be amended to change the strength of your brew.
A very diminutive machine that would suit smaller kitchens perfectly. The machine is even sold with 100 filters saving you a small fortune right away. Perhaps the best news regarding the Cuisinart is its impressive three year warranty. The machine is distributed by Lakeland who are very flexible in their offerings on the guarantee.
A genuine triumph from Cuisinart – and a bargain at £99.99!
---
Sabichi Stainless Steel Coffee Maker
£99.00
A manual espresso maker for under £100 isn't particularly common, this may lead you to believe this Sabichi model isn't all that but you'd be wrong. This stylish machine features a 1.5 litre capacity tank that is detachable for both easy filling and cleaning. Something many more expensive machines don't have!
Manual machines are often thought to be very difficult to use but with this Sabichi machine, that just isn't true. There are three buttons as controls for the machine: on/off, espresso and cappuccino – that's it! It's no more difficult than pushing a button. Naturally, the cappuccino function will need you to make use of the frothing arm but it is much simpler to use than on other machines. You can even leave it to foam itself assuming you keep an eye on it.
The Sabichi is a good example of a budget manual espresso machine; it does everything anyone could want aside from grinding the beans for you. Sadly, there is little information on any kind of warranty but when purchased through Amazon you can opt in for this at an additional cost.
Well worth the money at £99.00.
---
Kenwood KMix CM030GY
£90.00
Filter coffee machines may not be the most complex in terms of the technology that goes into them, but they remain a firm favourite with coffee connoisseurs around the globe. The slow infusion creates the most intense taste available and Kenwood have certainly recognised this here. Not only does the KMix's internal ThermoGen heating system brew the coffee at the perfect temperature, it also has an internal detection system. This turns off the machine after two hours and informs you when descaling is needed.
The tank is less than one litre which may deter some but it is incredibly compact at less than three kilograms. It is something of a quirky, retro design too which will sit well in modern kitchens – think SMEG!
Kenwood is also one of the brands you can trust and have a fantastic reputation for quality goods from kitchen appliances to stereo speakers. They really are jack of all trades. There are cheaper filter coffee machines available but this one is well worth the money for its clever design, reliable manufacturing and 12 month guarantee.
Simple and impressive for £90.00.
---
Russell Hobbs 14899 Platinum
£89.99
It was never going to be long before Russell Hobbs received a mention. This grind and brew model is truly exceptional for the price. The most important feature of this machine is its LCD screen; there's nothing better than having a screen to work through rather than trying to brew blindly. The screen handles functions such as programming the time of day you would like your coffee brewed, as well as how many cups you'd like. You're able to have up at ten at once, genius!
Interestingly, this machine doesn't require paper filters as its permanent filter can be easily cleaned and re-used. The integrated grinder does require you to use whole beans rather than pre-ground but the programmable brewing function means there is no waiting around.
Perhaps the main drawback of the machine is its size. It isn't the largest in terms of dimensions but 100kg is a lot for anything other than a worktop. Certainly not the machine for you if it's only to be used on special occasions, this is an everyday machine.
The price simply doesn't reflect the functionality here. Russell Hobbs have created something truly brilliant for less than £100.
---
Bosch Tassimo T34 Joy
£89.00
Pod/Capsule machines are renowned for being straightforward and Bosch have genuinely made this machine as simple as it can possibly be . It's so simple there are only two buttons on the whole machine: on/off and brew.
The machine has an innovative barcode scanning system which recognises the pod inserted, the program required for the perfect brew and also features Bosch's sensoFlow technology. This means heating up time is nil.
There's no too much to say about Tassimo machines, the Tassimo pods are fairly inexpensive and have a very vast product range. The crux of the matter is whether the machine itself fits your needs. The Bosch is small, stylish and its clever heating system is superb.
For £89.00 you really can't do much better than this Tassimo machine.
---
Krups Dolce Gusto KP120840 Mini Me
£75.85
Surprisingly, as we work down in terms of cost we actually encounter some of the bigger brands. However, don't be fooled into thinking these entry level machines are no good, it's quite the opposite. This particular design is becoming synonymous with the Dolce Gusto brand, the rounded head and the volume selection slider. It's incredibly user friendly and so straight-forward, you may not want to look at any other machines.
However, the tank is only 0.8 litres which is enough for around six cups. This is no real task as the tank is fully detachable. Granted, if you use the machine on its full volume option, you may not get six cups from a tank but such a well-designed, compact machine wouldn't overly benefit from a larger capacity.
This particular model is actually the top of this Krups range and a similar product can be purchased for around £50. Though, for the best results it is wise to opt for this higher end model. The money you save on comparative models could be put to use purchasing one of Dolce Gusto's attractive capsule holders .
A top brand name for very little outlay is exceptional – £75.85
---
Russell Hobbs Brita Purity Filter Coffee Maker
£72.00
Recent ventures into the coffee machine market from Brita have gone down very well. Their rich history in water filters can now be combined with filter coffee machines making for an incredible coffee experience.
This particular model is very good value for money as it can be programmed to brew whenever best suits you and has an impressive water capacity of 1.3 litres. The biggest criticism of Brita in the past has been the extortionate prices of their replacement filters. Thankfully, isn't an issue with the Purity as it is fitted with permanent filters.
The machine benefits from faster heating up than previous Brita models, around 75% faster than its rivals. It also features a heated base plate to keep brewed coffee warm and an auto shut down feature essential for energy saving.
In an age where filtered water is becoming so important, this machine really is a huge step forward and at £72.00, you can't do much better for the price.
---
Andrew James 15 Bar Barista Coffee Machine
£69.99 (on offer, £97.99 otherwise)
This really is a piece of Starbucks in your kitchen and for such a low price you'd be mad not to consider it. It may not be the easiest thing to use for a novice but with practice and practice, you'll soon be brewing your own espressos, lattes and cappuccinos like an expert barista.
A straight-forward design sees a large dial on the front for selecting one or two cups, an on/off button and another  to select either the type of water flow; high pressure or hot water dispense. The machine comes complete with two filter arms and a steam arm for frothing milk. Basically everything you could possibly need and, the top of the machine even functions as a cup warmer.
The 1.7 litre water tank will produce anything up to 16 cups and is detachable for easy filling. The system works on 15 bar pressure which is perfect for brewing.
Not the biggest name in domestic appliances but if this machine is anything to go by, Andrew James might just become the most popular in your home – £69.99.
---
Braun BRA KF560/1
£65.00
It couldn't be long before technology giants Braun entered the market and their typically efficient style shines through with the BRA. The simple design features a 1.3 litre tank, this is filled from above. There is also a recessed area for the paper filter, these are the only two moving parts on the whole machine.
Reviews have been very favourable of this particular model, though its predecessor did include a Brita water filter. It appears this refreshed model does not and may have something to do with the ludicrous pricing of the Brita filters. In the past £65.00 on a coffee machine would soon lead to hundreds of pounds on filters.
A true return to simplicity by Braun and it does produce very refined coffee, a shame it uses paper filters but they are inexpensive for the most part.
---
Breville Moments Hot Drinks Maker
£62.00
You can rely upon household name Breville to come up with a whole new take on the coffee machine. They have certainly delivered in the Moments machine. Instead of using expensive capsules and pods, the Breville has tanks for fresh milk and water. These can be heated to produce a drink of your choice using instant coffee or hot chocolate.
It may sound bizarre that we favour a machine using instant coffee rather than freshly ground but this really is a game changer. The Breville heats up in around 3 minutes, a lot faster than many of the budget coffee machines. It also makes use of fresh milk which the capsule machines sadly do not.
We concede it's the choice of either milk or water but that isn't uncommon. The machine itself only has three settings: off, heat up and dispense. So simple you could do it blindfolded, the same goes for cleaning the machine…virtually everything is removable and dishwasher safe!
Some may see the Breville Moments as something of a gimmick but it is so much more than that. It's a very clever machine that is simple, affordable and reliable!
Best Coffee Machine Under £100
Obviously, this is a very subjective matter as some people truly prefer to use capsule machines whereas others prefer to take on the Barista machine head on. Personally, we believe any of these machines will provide you will everything you want for a very low outlay. This will free up money for any peripherals you may wish to purchase.
You can spend as much as you like on a coffee machine but avoid spending a fortune when there is no need. Check out the guarantees too; many brands won't replace a dropped filter coffee jug and they can be very expensive.